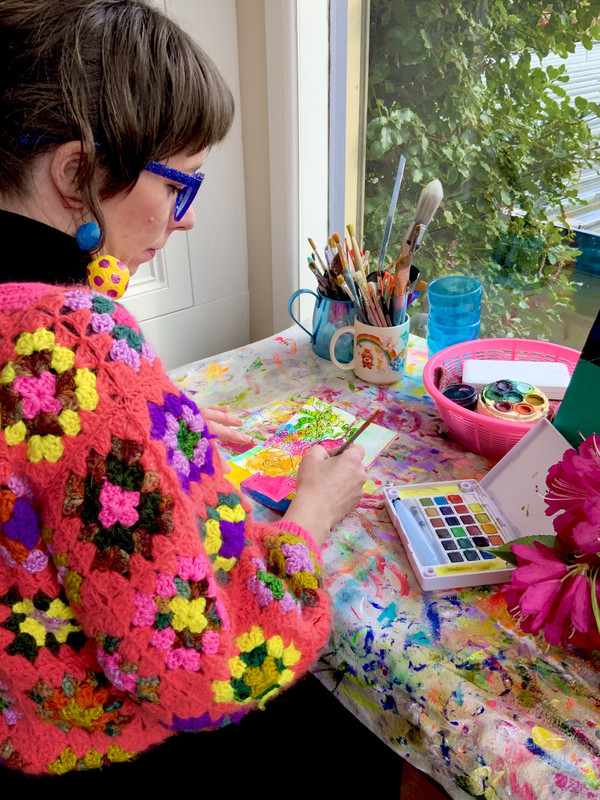 Emily is an artist, maker and seeker of visual wonder who sees the world through a kaleidoscopic filter.
She finds things like the iridescence hiding within a seashell, the rainbow swirl of an oil stain on the road, or a prismatic reflection cast mysteriously on a wall irresistibly magical, and squirrels away the imagery in her minds eye to later inform her visual works.
The media and techniques she engages in her work are vast and varied. Having been raised amongst strong, crafty women, traditional crafts play a proud role in her making, while a lifetime of making pictures and studying art bring a solid repertoire of painting and drawing skills to her creative table.
Most recently, having become custodian to a large, luminously wild garden, her newest work has seen an explosion of floral imagery (and is responsible for her dubious pilfering of plant cuttings!).

Complementing her practice as an artist, Emily is also a passionate arts educator. Having co-established MAKE art school, she dedicated five years to inspiring children and adults to connect with their own inherent creativity, given them confidence in their value as artists in their own right, and helped hush those negative voices that insist only an elite few are allowed to make art.
She continues to facilitate arts learning through classes, workshops and activations, so keep an eye out for updates.